The DVC RPE Visits Department of Psychiatry
Submitted by gkhamati on Fri, 2015-06-26 13:55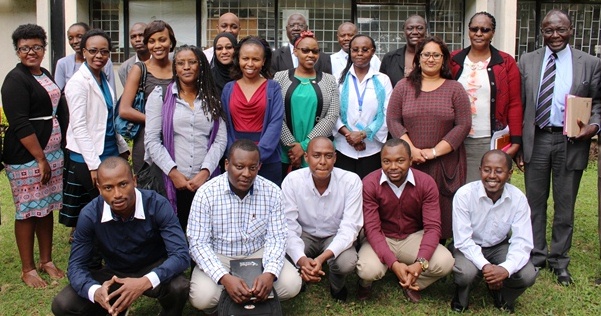 The Participants of the Research Grants Opportunities Discussion
Officials from the DVC RPE visited the Department of Psychiatry today and held a meeting with both the faculty and students. The faculty, led by the Chairman Prof. Kuria, and the students drawn from both MSc. Clinical Psychology and M. Med. Psychiatry, held a very extensive discussion on the opportunities for Research grants in the University of Nairobi.
The officers from the DVC RPE also took the members through the various online portals from which research grants are published, the modalities of application and the role the University of Nairobi (DVC RPE) plays to assist the applicants in securing the grants applied for.
The interactive session resulted in the members pledging to pursue more actively in seeking the Research Grant opportunities. The Officers congratulated the Department, and the College in general for being on the forefront of Research Grant seeking within the University.
Click to View Gallery of the Event